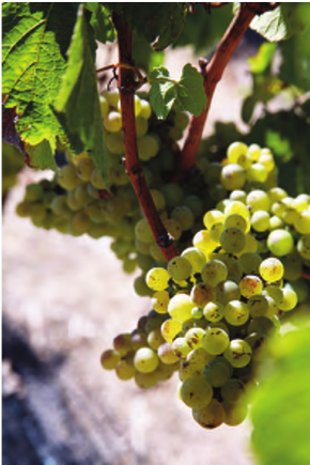 January 29, 2018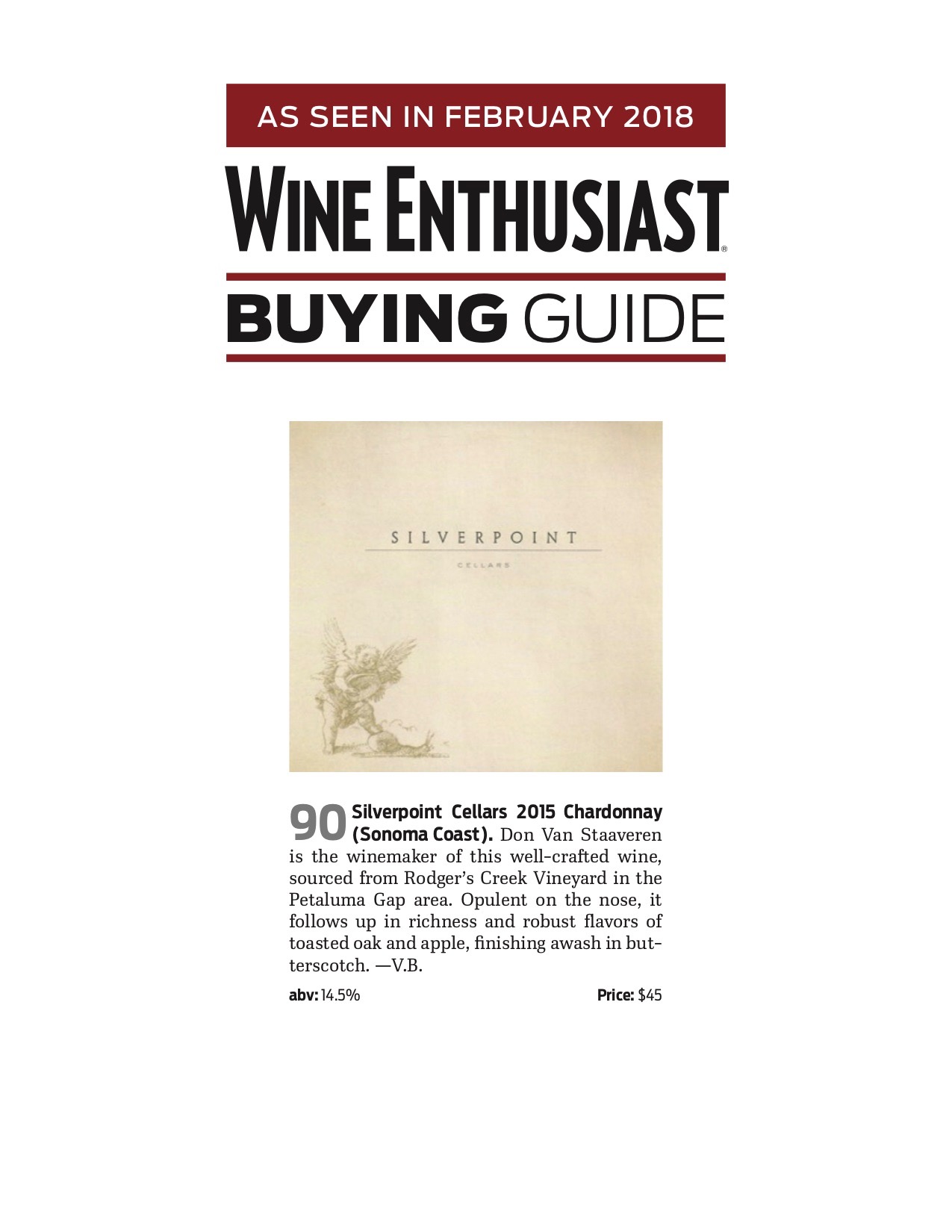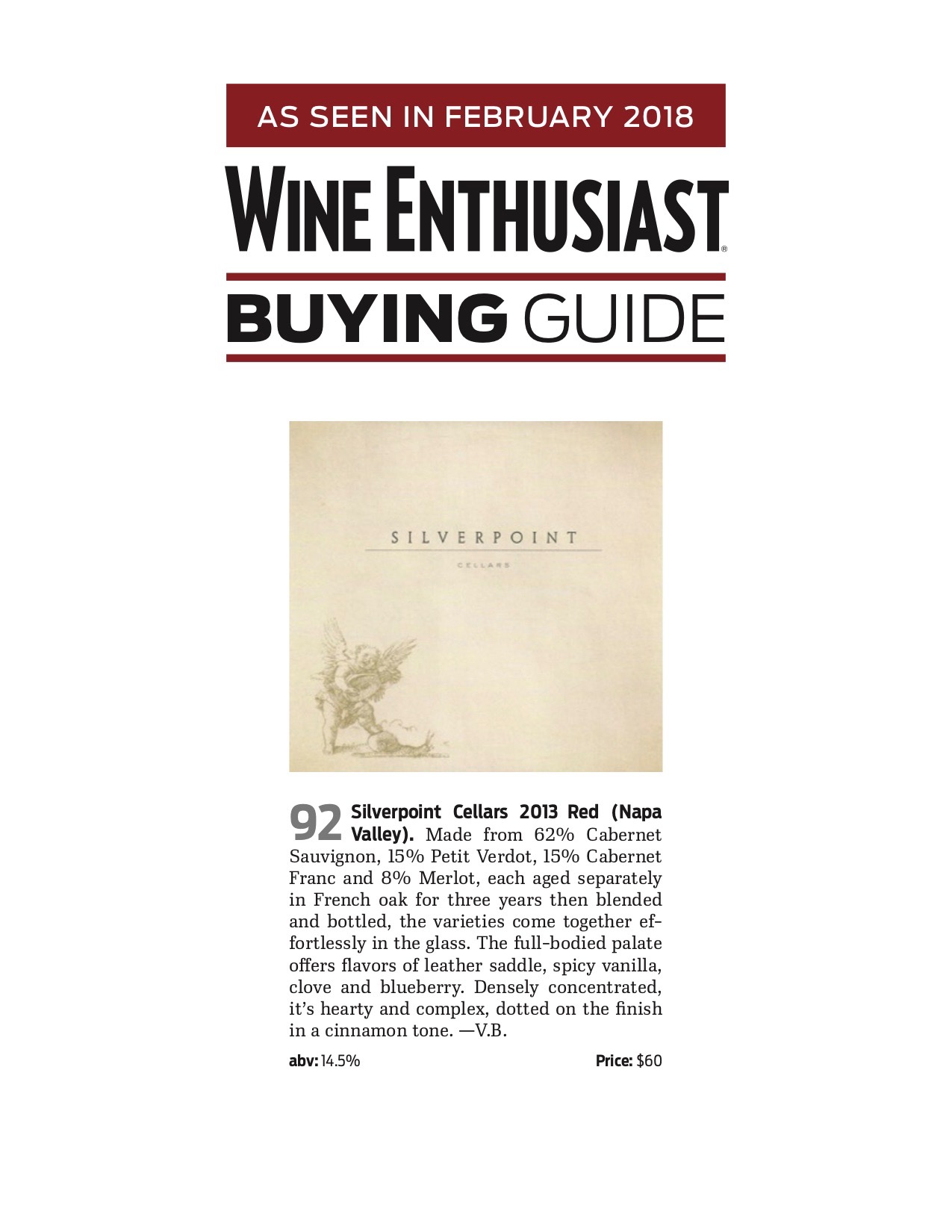 January 2, 2018
It has been a wild fall and winter. Our apologies for not posting more updates. Here are some highlights:
Wine Enthusiast ratings: We just received word that our 2013 Napa Valley Red Wine is rated at 92 points and our 2015 Chardonnay is rated at 90 points!
Petaluma Gap AVA: At long last, Petaluma Gap has officially become California's newest American Viticultural Area (AVA). Our Chardonnay grapes from Rodger's Creek Vineyard are now part of this AVA rather than the much larger Sonoma Coast designation.
Why does this matter? We are happy because Petaluma Gap precisely denotes the growing conditions that make our Chardonnay particular: west-east winds from the Pacific; foggy mornings; sunny days; windy afternoons and cool evening temperatures. These conditions help preserve the natural acidity of the grapes over an extended growing season. That's why our Chardonnay retains its crispness as the fruit slowly matures in these cooler temperatures.
That's what we wanted in our Chardonnay and that's why we chose the Petaluma Gap as the source of our fruit!
October Fires: Sunday October 9 was a dry, hot and windy day. As we turned in for the evening, we noted how unusual it was to feel 35-45 mph winds on an early fall evening.
Sometime after 1am, kind and persistent neighbors pounded on our doors and windows. Slow to respond, we only awakened when we heard their forceful words…"fire!" We scrambled with them to the highest point of our neighborhood. A mile north of our homes (just south of Artesa Winery in the Carneros area of Napa) flames were leaping east to west pushed by the high winds. We received the mandatory evacuation message. A resourceful and generous neighbor invited all of us in the immediate neighborhood to a private airplane hanger at the small Napa Airport. There, we all (8 people, 7 dogs) watched on TV the progress of the many fires across Sonoma and Napa. We also got a little sleep and a lot camaraderie.
Next day, we checked on our homes as the fires burned on. Very, very smoky but ok. We all then separately moved away for one week for the remainder of the evacuation period.
We remain so thankful for our neighbors' vigilence and thoughtfulness. We suffered fear and disruption but nothing compared to those who occupied the 8,000+ homes and buildings destroyed by the fires. Santa Rosa was particularly hard hit.
For Silverpoint Cellars, our Chardonnay had already been picked and was fine. Sadly, however, we lost our entire crop of red grapes that had been scheduled to be harvested that week. The vines were not burned. Rather, the two week interruption of the entire industry (loss of power, nobody to pick the grapes, no safe place to take them) led to overripe fruit and smoky grapes. So, no Silverpoint Cellars Napa Valley Red Wine will be produced from the 2017 vintage. In barrels, however, we have the 2014, 2015 and 2016 vintages awaiting blending and bottling. Stay tuned!
June 22, 2017
Happy to report that our 2012 Napa Valley Red Wine has been rated 91 points by Wine Enthusiast in its June issue.
WE says: "Juicy red and black berry define this blend of 60% Cabernet Sauvignon, 15% Merlot, 15% Petit Verdot and 10% Cabernet Franc. Pillowy tannins support a likably ripe expression of extracted juiciness and strong flavor."
Yeah!
December 8, 2016
Happy to report that our 2014 Chardonnay (Sonoma Coast) has been rated 90 points by Wine Enthusiast in its December issue.
WE says: "Lemon meringue and graham cracker show first in this rewarding wine that's made in a lush, full-bodied, barrel-fermented style. Golden apple stands out amid the toasted oak, while crisp acidity shines on the finish."'
Couldn't agree more!
July 20, 2016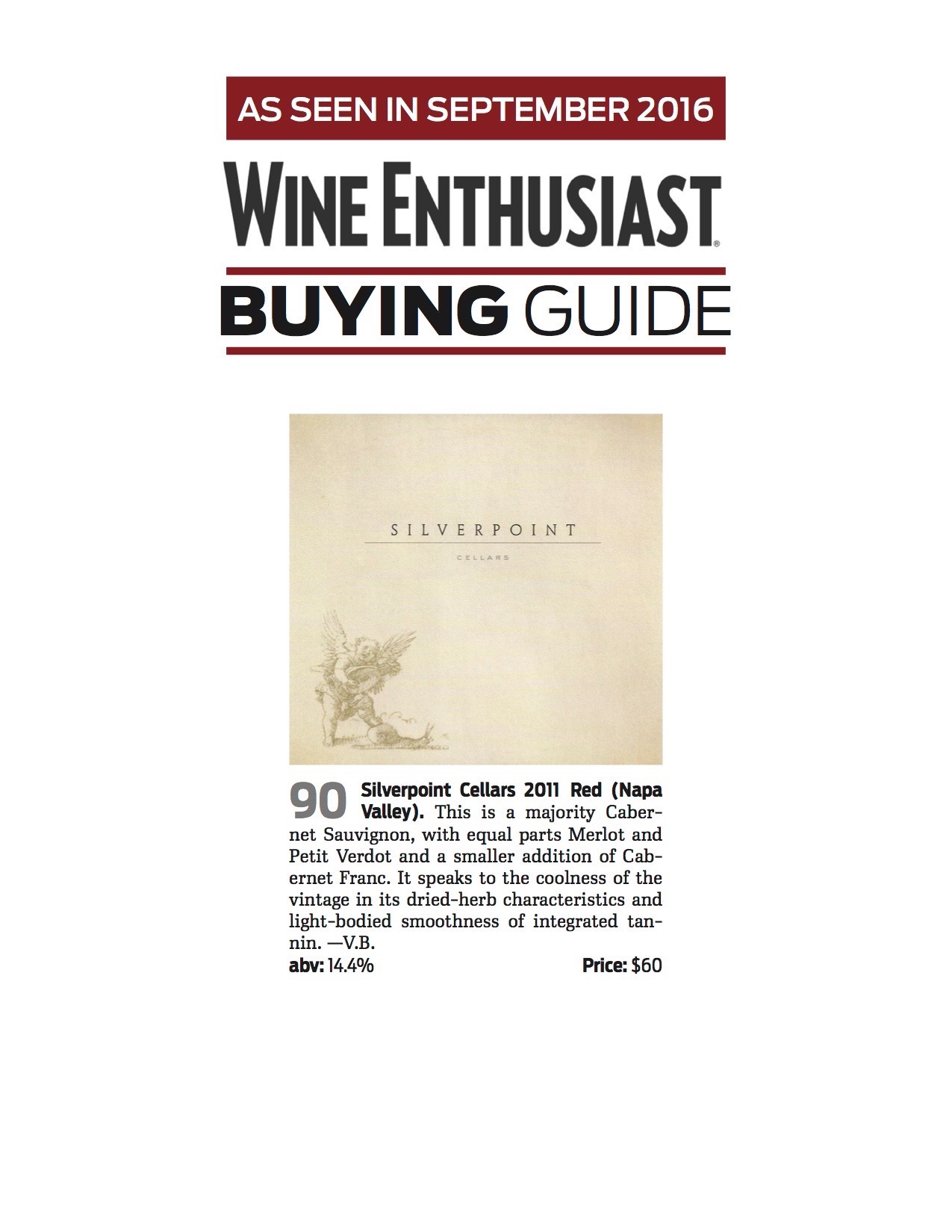 March 14, 2016
Rosemary and I just received word that our 2013 Sonoma Coast Chardonnay received a 90 point rating both from Wine Enthusiast and Wine Spectator.
The Wine Enthusiast write-up will be in its May issue.  See the March 15 note above.
The Wine Spectator rating and commentary is in the March 31, 2016 issue. WS says:
"Plenty of ripe, rich peach, nectarine, honey and apricot notes are shaded by spicy, toasty oak. Folds together nicely and has a strong finish that sticks to the core flavors."
Cheers!
March 13, 2016
This coming Saturday, March 19, 4-6pm, Silverpoint Cellars is sponsoring an art exhibition and opening at di Rosa in Napa. See www.dirosaart.org. Di Rosa is a collection of over 2,000 works of art focusing on the artists of Northern California. The di Rosa galleries are set amidst 200 acres of Napa landscape surrounding the beautiful Winery Lake.
The exhibition is called "Collection in Focus: Ned Kahn." Ned is one of our favorite artists. His sculptures and installations have gained international prominence for their combination of art, science and nature. His numerous public commissions have helped redefine cityscapes worldwide. In recognition of his work, Ned was a 2003 recipient of the MacArthur Foundation's "genius grant."
Ned will be attending the March 19 event. Please stop by if you can. Our Chardonnay will be served!
September 24, 2015
Harvest is in full swing!  Our Chardonnay was picked two weeks ago.  Our valley floor Cabernet Sauvignon came in last week while our mountain Cabernet, Merlot, Petit Verdot and Cabernet Franc will be harvested over the next week.
Our grapes reflect the common refrain heard this year throughout Napa and Sonoma Counties:
* High quality fruit
* Smaller harvest than normal
* Harvest dates two to three weeks earlier than in previous years.    Dry, warm to very warm conditions accelerated the maturation of the fruit.
All in all, a very excellent year.  Now, please, let the rains begin!
June 18, 2015
Our cool growing season continues, allowing our grapes to mature very gradually.   Very good news.   Indeed, May was the coolest month of 2015 so far (that's right, colder than Jan-April)  in the San Francisco Bay Area.  Tourists, bring your sweatshirts if you're coming to San Francisco this month.
On a very geeky art history kind of note, the National Gallery of Art in Washington D.C. has an exhibition on right now entitled "Drawings in Silver and Gold, Leonardo to Jasper Johns."   This collaboration with the British Museum is the first exhibition to examine the history and development of the art of drawing with a metal stylus.   Silverpoint drawings are the focus, including detailed discussion of the work of Albrecht Durer, the artist whose drawing is the focus of our wine labels for Silverpoint Cellars.  Indeed, another incredible drawing by Durer,  A Dog Resting, 1520, forms the cover of the exhibition catalogue.   We are delighted.
Enjoy your summer!